Posted on August 16, 2019
I've been following the #slowfashion movement online, amazed by the handmade clothing, knits, thrifted garments and refashioned items I see. It is inspiring – I have so many plans and ideas for my own slow fashion routine. And yet I face the reality of my lack of time, energy, resources, to make the wardrobe of my dreams.
And yet it is the _slow_ part that I think I'm supposed to be focused on – not some future wardrobe of my dreams, but the small moments of stitching a lotus flower on what will become a jacket, or knitting a few rows while watching Netflix. Little by little I am transforming what I wear into more mindful objects that are embedded with an ethic of care.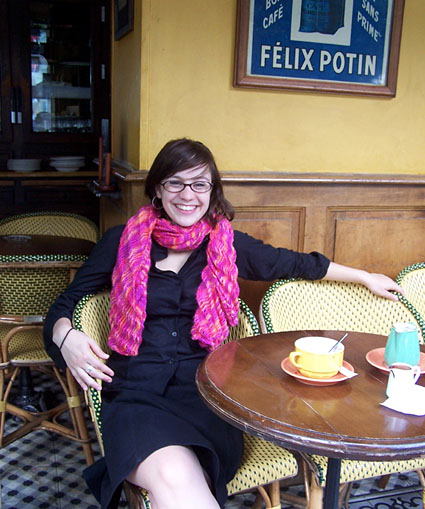 This brings me to a knitting project that is more than ten years in the making. I have finally made a Clapotis scarf.
Clapotis is an iconic pattern for me. This was published in Knitty about a year after I rekindled my interest in knitting. After I finished my masters degree in library science, I decided it was time to make a pair of socks. I was also inspired by a knitting group in the library I worked in, where one of the women constantly made socks. She encouraged me, got me a good pattern, and after a purchase of self-striping wool-blend yarn at Joann Fabrics, I set out a journey that has now become second nature to me.
I always have at least one knitting project to grab, sometimes grand cable pattern sweaters, sometime simple no-pattern hats. Usually I have a couple. And recently, I needed something to knit that would use up my stash, be relatively simple and quick, and something I could wear but not need to do any fitting or set in sleeves. Ravelry reminded me of Clapotis. My old knitting binder has a printed copy of the pattern from 2005, but these days I have the pattern downloaded to iBooks on my phone and iPad, so I set out pulling together the tools for creating my first Clapotis.
Close up of the scarf

at MASS MoCA

Bathroom selfie
Back in 2005, people blogged about knitting. So here I am, almost fifteen years later, blogging about my knitting. I love that Instagram and Ravelry are around now, and that the knitting world has changed and continues to evolve. I'm happy to have this slow fashion passion of knitting.